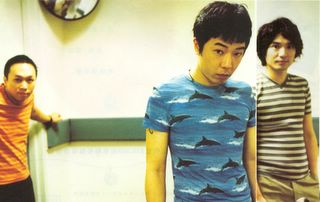 and now here is an article from singapore's i magazine, i think in 1998? during that trip they performed at the 'hello concert', which a kind singapore fan sent me the tape of. hmmm, off to watch it now...
i'm so used to hearing pr talk in articles that i find this one amusing.
- - - -
INTRO: * Ka Kui? Not to mention anymore. HK's future for bands? Talked a little about it. No music, no Ka Kui, so what else can be talked about with BEYOND's Wong Ka Keung, Yip Sai Wing and Wong Koon Chung(Paul)? There is something, this time, we talked about the topic on: Youngsters. Who says BEYOND is unsatisfied with the world?
* Unknowingly, BEYOND has been around for 15 years. Their first public performance was at one of HK's Cultural Centre's small location. 15 years, from a band of 5 to a 'Three-piece band', they had been through a lot of hardship.
PAUL: 15 years for playing music is not a very long period of time, there are still quite a lot of things I don't know, & the more I learn the more I realized there are even more things I had not know before.
WING: If you like something, do not hesitate to go ahead with it, then the chances of success will be higher.
* Rock music is not the leading trend. Who says so? BEYOND's lead vocalist Wong Ka Keung.
KEUNG: If u have enough guts to play music in HK... go ahead and try. I dare not guarantee you will succeed. Why aren't there space for rock bands to survive in a Chinese society? I don't know why the situation is so terrible, so poor. I don't even know how to advice other bands on how to walk down this path.
* Rock music is getting popular in Taiwan and China. Where are the other HK rock bands like Raidas, TaiChi, who once too had 'cells of rock' in them and went through happiness and anger with us? No more, the only left to mention seems to be BEYOND.
KEUNG: HK is an independent place. No matter what happens to the world, she remains the same. We won't get influenced by music from other places.
WING: Maybe HK is too small, the market cannot allow rock music. And maybe Taiwan is big enough to contain space for them to survive.
* Since HK's market proves this harsh, what is left to persist?
PAUL: No matter what happens to us, we still have a lot of supporters. This is the main reason. We won't want to disappoint them, some say we are the "big brother" of rock bands, we wish to do things for the best. This is a motivation to us.
* What's that about No. 1 Band? What "big brother of bands"? Is it pressurizing?
KEUNG: We work hard to produce music, but there are still comments that we are still not up to this, not up to that. This seems to be an unfair pressure on us, take a look at the many songs of most singers in the market today, whose exactly produces the most sincere work? We are definitely sincere in producing our music, but we face pressure because we are truly producing our own music, so people becomes even more picky on us.
* Em... would it be because of BEYOND's attitude? Many feels BEYOND is too cold, too distant. BEYOND are after all singers, should have more publicity done...
KEUNG: We are not cold. We are very friendly. Our rate of publicity used to be as high as any other singers. We used to do a lot of promotions. But now I feel a lot of singers don't do it as well. They can choose, we have the right to choose too. I feel if you wish to know us better, you could buy our reports or books.
PAUL: We spend too much time on playing music now. When we release an album, we do try and fit in with the promotions to be done. We hope to be treated fairly. There are certain promotions we can't fit into, a lot of media doesn't wish to do live shows as well, because it requires a lot of helpers, like soundman etc. Some TV stations just doesn't wish to spend money on it.
* Flipped through a HK mag the other day, & actually saw quite a lot of new arising bands in HK. This is good news! But do you know them?
KEUNG: Anodize is not bad. Basically, not many bands get to release albums.
PAUL: We know they do have a lot of spirit, see things widely like us. They are not like other bands, some resist the leading trend; they don't sing English songs, love songs. Not that it's no good, but they limit their future.
KEUNG: And there's Zen. Do you know them? (Soundtrack singers of movie 'Young and Dangerous') They have a lot of aspiration for music, not bad, and they're still young. Really should mention them, although I'm not sure if their music is alright to appreciate , but should really give them some support. They are a band, there are not much left in HK anymore.
PAUL: We give more respect to those who can really play musical instruments.
* Is the leading trend so terrible? I actually love Faye Wong and Jacky Cheung's songs! Does BEYOND favor any leading pop singers?
KEUNG: China has a lot of good bands around, I like Dou Wei(Faye Wong's hubby). He produces music too, basically, he is quite like us, we play music. But you don't mean this kind, do u? You mean those Jacky Cheung, Faye Wong huh? Those kind... doesn't seem to have any favor for them. (laughs) We do quite like Sam Hui, his music is quite like ours, he is also a leading pop singer, a big brother. He is a real musician.
* Maybe because of those movies like 'Young & Dangerous', these kind of 'attitude' movies had affected the way youngsters nowadays deal with things, seems rather extreme and unhealthy. If this goes on, what will the world be like in future?
KEUNG: I feel youngsters nowadays should grab on to their future. This is very important. The younger one is the more he should have aims. A life without an aim is easy to become complexed.
PAUL: Youngsters nowadays are weaker. Our generation is weaker than the upper generation, but they are even weaker than us. (shakes his head as he speaks)
WING: A lot of society problems in HK arise from youngsters commiting suicide. And the reason for suicide is actually because they were scolded by their mom, or failing their exams. As youngsters, they should be stronger, should make out their directions. They should learn to put aside their pride at the appropriate time, so as not to get hurt. Some problems are easy to solve, be optimistic.
PAUL: If kids in kindergarten are starting to learn the computer now, then they could be roaming about the internet by primary school, and would have a better understanding of what's going on around the world, and could also watch r-rated films secretly as well then.
KEUNG: Our generation is different, we could blush even if it's just a magazine!
* Youngsters, the hope for the future. Which country's youngsters are most worth praising?
PAUL: China. To be able to survive in such a reseved country is already really worth admiration! (laughs) It's true, imagine myself being there, I can't think of how I'm gonna survive! They do not have much places for entertainment, only thing to do is to read. HK youngsters are too fortunate. Look at those kids in China, they don't really have much, but they can still live happily.
KEUNG: They don't have any motives, making friends with them is a great pleasure. In fact, in those countries which are too progressive, many haven't a good heart. I do quite like Taiwanese youngsters too, they are better versed in literature. Many like to read, this is a good trend for youngsters to follow.
WING: I don't know many young people from other countries...
PAUL: (interrrupting) Thailand! (laughs) Thailand is not bad. They are very pure...
WING: I often read letters from Chinese and Taiwanese fans, they are not like HK fans, who always talk about themselves, it feels kinda gossipy. Taiwanese fans have quite a bit of feelings for music, they won't write rubbish, and they have beautiful handwriting.
PAUL: Unlike HK fans with lots of mistakes in words, even those which shouldn't go wrong! Like even the word 'ji' as of 'ji ben'(basically)!
WING: If they are really so rushed for time, might as well send tapes to me.
PAUL: (looking doubtful) Are they busy??????
KEUNG: (appearing indifferent) I haven't the time to listen. (laughs)
DRUMMER SAI WING: MR SWEETIE. THAT CHARMING DIMPLE IS MORE THAN ENOUGH TO MELT ALL WOMEN'S HEARTS. HE IS VERY OBEDIENT, IN FACT, HIS SHYNESS MAKES HIM SYMPATHETICAL. TALKS VERY LITTLE, BUT PLAYS TERRIFIC DRUMS.
BASSIST KA KEUNG: MR ATTITUDE. HE DOESN'T PAY ATTENTION TO YOUR QUESTIONS ON PURPOSE, APPEARS DREAMY MOST OF THE TIMES. OR HE'D RATHER SCRATCH THE TABLE CLOTH WITH HIS FORK. LIKE A KID HATING SCHOOL.
GUITARIST AH PAUL: MR PR. WHEN THE OTHERS APPEAR TIRED OF TALKING, HE WOULD TRY AND TALK MORE AND QUOTE EXAMPLES WHEN POSSIBLE, SO THE REPORTERS CAN COMPLETE THEIR TASK.