beyond & me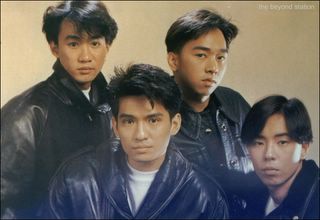 From 1988 (click for larger).
it's true that i am very beyond fixated, after all these years.
just before last christmas, i was on holiday at genting highlands in malaysia, and the sight of those
new year's eve concert
posters was enough to make me try to extend my air ticket so i could fulfil my lifetime wish to see them play live. my relatives thought i was insane.
(of course extending my ticket would cost me twice as much as i paid for it; and the tsunami happened not long after i left, with the concert shortened in deference.)
when i first heard them, i was some kid who appreciated the pop idol way they had been preened by both their record company (cinepoly and kinn's) and tvb (the monopoly tv station). who was your favourite member? mine gravitated between babyface wong ka keung (
top right
) and guitar wiz paul wong (
bottom right
).
later on i would list my favourite song as
forever waiting
, the version recorded in 1987, when they were still an underground band who played punk and metal songs and hadn't yet been involved in record company wrangling over their music and image.
my first album was of all things a pirated cassette of 1991's
deliberate
, which i still have. it is full of cheesy tvb theme songs, but i know all the places to pump my fist up in the air and yell, "euuuaaay!" the way wong ka kui used to do a lot, that it's become a bit of an in-joke with the remaining members.
the community cantonese radio show told me that he had passed away sometime in june, 1993. i couldn't check on the internet in those days, and i couldn't read chinese well enough either, so it didn't really hit home until i saw the funeral procession pictures in a gossip magazine (hey apparently there were
rumours online
recently that he was still alive and well in japan, so i'm done hallucinating).
there isn't much else to say about this, except who knows what may have happened if he were really still alive today?
(end of this part)